We've all been in this situation. It's summer, a friend calls, and somehow you end up meeting at your place for drinks around the pool. In most cases, you won't have enough time to properly clean your place and yet you can't have guests in a dirty house. Stop panicking, our Guildford cleaners have some tips that will save you from embarrassment and instead create a nice welcoming atmosphere.
The Lifesaving Tools
To avoid such stressful situations, you need to prepare in advance. Make a mental note to purchase the following items the next time you go shopping.
Wet wipes – get the biggest pack there is. Trust us, you will put them in use in no time.
Bin bags – they are useful not only for collecting rubbish.
Scented candles – Great distraction and a conversation starter.
Kitchen paper – It is perfect for drying off different spills.
Air fresheners – To mask unwanted smells
In addition to this small list make sure you always have:
New vacuum bags;
A bottle of multipurpose cleaner, preferably one that doesn't need rinsing;
A mop and a bucket;
A broom and a dustpan;
A toilet bowl cleaner;
Now you are ready for every surprise.
Clean Your Guildford Kitchen Fast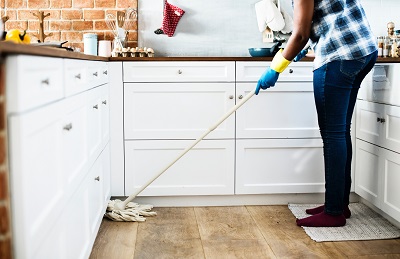 You can invite your friends to have a drink in the back yard, at your deck, in the living room, regardless of the place they will somehow always find their way to the kitchen. This means you need to start the speed cleaning from here.
Get rid of the dishes – the best scenario is if you own a dishwasher. Just hide everything there. However, if you don't have one of these magical machines, you need to wash your dishes as fast as you can.
Use the wet wipes to clean your worktops. One-two strokes and throw them in the bin.
Gather all the rubbish and take it outside.
Put some water and multipurpose cleaner in a bucket and mop the floors. Do not waste your time vacuuming or swiping. The mop will gather everything.
How to Have a Presentable Living Room
If you have 30 minutes to clean up the mess, you need to stop wasting valuable time and get to work.
Wipe your coffee table, shelves and TV wit wet wipes to remove the dust and dirt. If you don't have time to vacuum your couch, use them to swipe it and remove all hairs and fibres.
Vacuum the floors if you have a carpet, if not – mop them. Do one or the other, you don't have time for more.
Use the bin bags to hide away all of the clothes, toys or other things that don't belong in the living room.
Lit some scented candles and open as many windows as you can. The fresh air will completely change the atmosphere and if you are lucky your guest may think you use professional cleaning services to maintain your home.
Use the broom to give your ceiling a fast swipe and remove any hanging cobwebs.
Wash the Bathroom in Your Guildford Home
The proper bathroom cleaning takes around 1 or 2 hours if you are not an experts house cleaner.
However, when you have only a couple of minutes, you need to be inventive.
Pour the toilet bowl cleaner in the toilet and leave it there.
Use a broom and a dustpan to clean the floor. If you have a window or a good ventilation system you can use a mop. The idea is to have dry floors when the guests arrive.
Spray your trusted air freshener.
Flush the toilet to clean the solvent.
Wipe the sink with wet wipes and remove all hairs.
Your work here is done!
Preparing the Outdoor Areas
In summer you usually have parties outside, so here a couple of tricks from our  Guildford cleaning company you can use when preparing for the arrival of your guests:
Swipe the deck and remove the debris and dust. Do not mop it, you don't have time and you don't want someone to slip on the wet floor.
Clean the outdoor furniture using, you guessed it – wet wipes. We told you they are handy in extreme situations.
Get your bin bags and put away all toys or unnecessary items laying around. Just hide them in the garage and deal with them later.
Ta-da you are ready to host this unplanned party without worrying about the state of your home. Great job!