End of Tenancy Cleaning in Guildford From Professionals & With A Deposit Return
48-hours guarantees for uninhabited properties
Extensive experience with all tenancy cleanings
Using specialised cleaning gear and detergents
Proven quality of the delivered cleaning services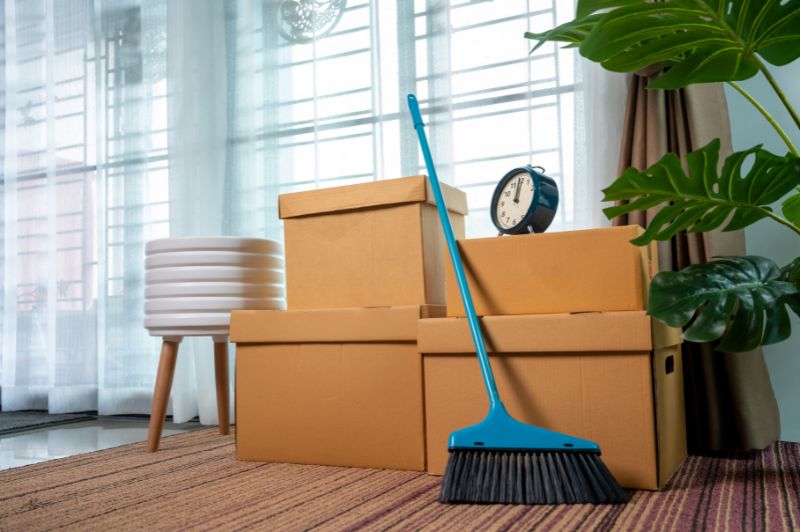 4 Step End of Tenancy Cleaning Guildford
We create a cleaning checklist
The Most Highly Rated Cleaning Company in Guildford
Are you wondering how to get your flat ready for your landlord's inspection? Worried you won't get your deposit money? Relax, you can always rely on Energy Cleaning's expert services when your tenancy is ending soon. We have specially prepared teams with years of experience working in Guildford and the whole of Surrey County. Our cleaners know how to tidy all the spots your landlord is going to check.
No matter how messy the situation may seem, we know how to handle it. Our cleaning company will provide you with technicians who are prepared to tirelessly scrape, scrub, wash and wipe until the job is done. Geared up with the latest equipment and the strongest detergents we can bring order to any tenant's life. That is precisely why we have such great customer reviews, and so many people in Guildford seek our services.
What the service includes
What Is End of Tenancy Cleaning?
The service is designed to prepare the place for your landlord's inspection. It is compliant with all standard requirements and assures the return of your deposit. The end of tenancy cleaning is quite popular with the younger residents of Guildford.
We offer a range of services designed to complement End of Tenancy Guildford
When it comes to end of tenancy cleaning in Guildford, any cleaning tasks that go beyond the standard package are considered additional cleaning services. Examples of such services include carpet, jet wash, upholstery, and window cleaning. You can request any of these additional services at any time during the end of tenancy cleaning, except for the jet wash service, which requires at least one day's advance notice.
Our cleaning company utilizes professional techniques to provide a thorough rug cleaning service that revitalizes every room and perfectly complements our End of Tenancy service in Guildford. We stay at the forefront of carpet cleaning innovations, ensuring that our methods are always cutting-edge. Our highly skilled cleaners are trained in the most effective and safe cleansing technique: Hot Water Extraction. Feel free to request this service at any time during your end of tenancy period.
Experience the remarkable results of jet washing, a potent pressure washing technique capable of thoroughly cleaning surfaces indoors and outdoors. Equipped with cutting-edge pressure washers and top-quality cleaning supplies, we guarantee the complete elimination of your concerns. Our skilled team expertly employs high-pressure water jets to remove stubborn dirt, grime, and residue from a diverse range of surfaces, including driveways, patios, and exterior walls. Kindly note that this service necessitates a minimum one-day advance notice before the end of tenancy cleaning.
Elevate your living space with our top-notch upholstery cleaning service, a valuable addition to our End of Tenancy package available in Guildford. This comprehensive service encompasses various vital tasks, including vacuuming, stain removal, deep cleaning, odor elimination, and meticulous drying of your upholstery. Witness the revival of vibrant colors and the rejuvenated comfort of your furniture, as we craft an inviting and immaculate living environment for your utmost satisfaction. Requesting upholstery cleaning as part of our end of tenancy service is both simple and convenient.
Experience an unparalleled window cleaning service with our highly sought-after Window cleaning service, the perfect accompaniment to our End of Tenancy cleaning in Guildford. Our extensive Window cleaning service caters to both interior and exterior surfaces, efficiently removing dirt, grime, and other debris. We employ cutting-edge techniques and eco-friendly products, guaranteeing flawlessly clear windows. Don't hesitate to request this service at any stage during your end of tenancy cleaning process.
Want to hire professional end of tenancy cleaners in Guildford?
 Fast, discreet, offering high-quality services at adaptable prices, Energy Cleaning is one of the most preferred companies for end of tenancy cleaning service.
Frequently Asked Questions
End of Tenancy Cleaning Guildford Prices
Minimum charge: 1 bed flat
Reach out and expect a response from us within a day.
Opening time:
08:30 - 17:00 Monday - Saturday